Money Sources
Looking for ways to get into home ownership? There are grant opportunities and incentives for first time home buyers.
2. First-Time Homebuyer Incentives: Explore various government programs and incentives designed to assist first-time homebuyers. In Canada, there are programs like the Home Buyer's Plan (HBP) and the First-Time Home Buyer Incentive (FTHBI), which allows eligible buyers to share ownership with the government to reduce mortgage costs.
>The Home Buyers' Plan (HBP)
If you have been contributing to a Registered Retirement Savings Plan (RRSP), you may be eligible to use the funds under the Homebuyer's Plan. This allows you to withdraw up to a certain amount from your RRSP without penalty to use towards your down payment.
If you are eligible, to make a tax-free withdrawal from your registered retirement savings account (RRSP) to buy or build a home. Ideal for first-time buyers, the HBP allows each borrower to withdraw up to $35,000 ($70,000 for a couple). You then have 15 years to repay what you've borrowed, interest-free, starting two years after you make your withdrawal.
Though the HBP is aimed at first-time home buyers, the program is also open to people who have not occupied a home that they or their spouse owned during the past four years. As of January 2020, eligible people who are divorced or separated can also take advantage of the program, even if they don't meet the first-time home buyer requirement.

>First time home buyer incentive (FTHBI)
A new program helps to make homeownership more affordable.
The First-Time Home Buyer Incentive helps qualified first-time homebuyers reduce their monthly mortgage payments without adding to their financial burdens.
The First-Time Home Buyer Incentive is a shared-equity mortgage with the Government of Canada, which offers:
5% or 10% for a first-time buyer's purchase of a newly constructed home
5% for a first-time buyer's purchase of a resale (existing) home
5% for a first-time buyer's purchase of a new or resale mobile/manufactured home
The shared equity component of the incentive means that the government shares in both the upside and downside of the property value, up to a maximum gain or loss equal to 8% per annum (not compounded) on the Incentive amount from the date of advance to the time of repayment. 
Click the link to learn more.
https://www.cmhc-schl.gc.ca/consumers/home-buying/first-time-home-buyer-incentive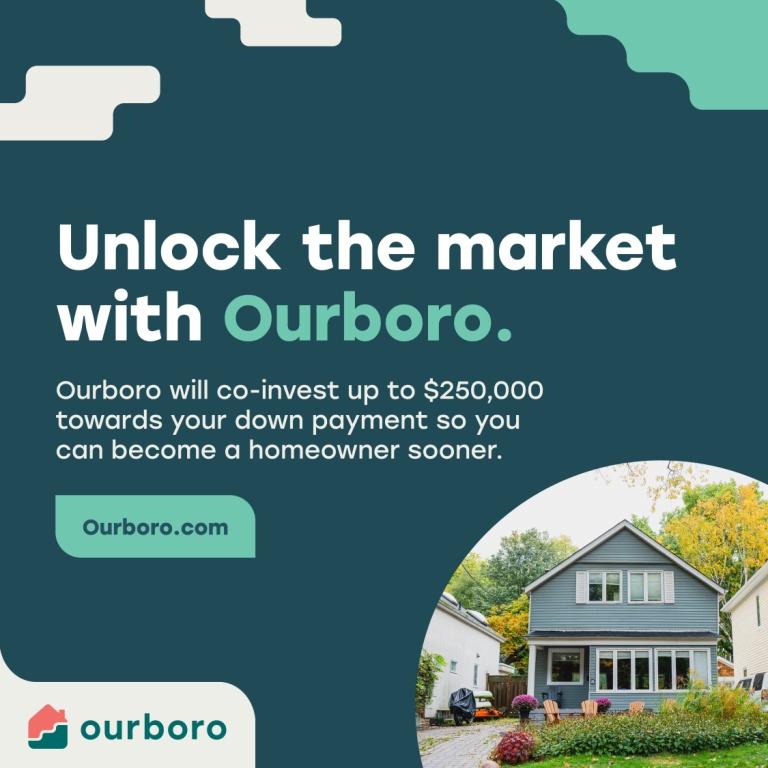 Ourboro is a new way to buy and own your home.
As your co-investor, we purchase a share in the future value of your home.
Once you are living in your home, we offer programs and services to help preserve and increase its value so that together we can share in the profit when it is sold.