Is now a good time to sell my home?
Posted by Mike Mifsud on Friday, November 10, 2023 at 10:01:59 AM
By Mike Mifsud / November 10, 2023
Comment
Is now a good time to sell my home?
The answer is complicated and should be considered carefully. A decision to sell your home is generally based on individual circumstances, financial and otherwise. Predicting the housing market is quite complex and depends on various factors beyond just mortgage rates.
However, If you are one of the significant number of Canadians who will face mortgage renewals amidst rising interest rates, it may be a good time to sell if you are facing a large increase in mortgage payments and an impact on your ability to afford your home.
Here's why;
Canada Mortgage and Housing Corporation (CMHC) estimates 2.2 million Canadians will face "interest rate shock" in the next two years as they renew their mortgages, representing 45 per cent of all outstanding mortgages in the country. The total amount of mortgage loans set to be renewed in those two years is valued at $675 billion, or roughly 40 per cent of Canada's entire economy.
Each household is expected to see an average increase in monthly mortgage payments between 30 and 40 per cent. Cumulatively, that will work out to an extra $15 billion in mortgage payments annually across the country.
Canadian Real Estate Association (CREA) has forecasted that house prices in 2024 in Ontario will see virtually no growth 0.2%. (see chart below)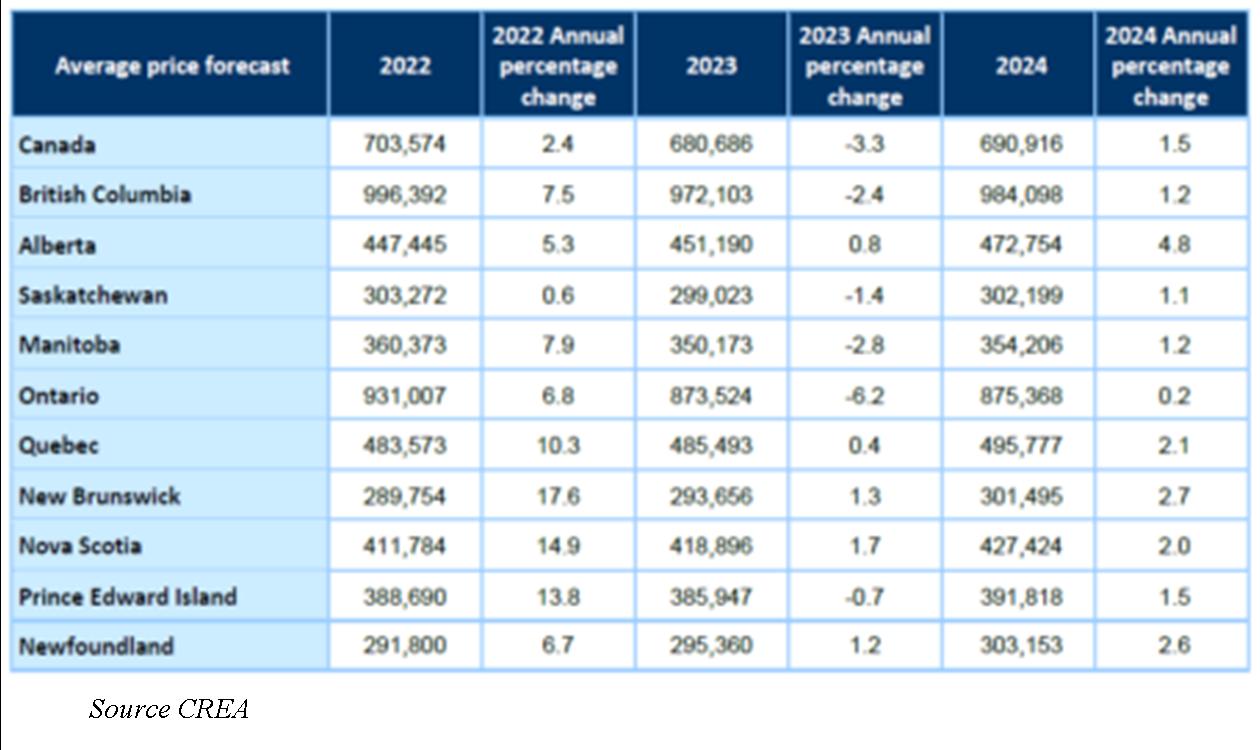 However, the housing market is influenced by multiple factors such as supply and demand dynamics, economic conditions, government policies, employment rates, and more. If higher mortgage payments lead to reduced demand or increased supply (as some homeowners may sell due to financial strain), it could theoretically lead to a slowdown in the market or even a decrease in housing prices in some areas.
But it's also possible that other economic factors could offset this impact. For instance, if the economy is strong, employment rates are high, and there's continued demand for housing due to population growth or other factors, it could counterbalance the impact of rising mortgage rates.
The housing market can vary significantly by region, too. So while some areas might see a dip in prices due to this interest rate shock, others might remain stable or continue to rise due to different local factors.
It's a complex web of variables, and while the interest rate shock is a critical factor, it's not the sole predictor of housing market movements. Monitoring economic indicators, housing supply, demand, and government interventions will also provide insights into the market's direction over the next few years.
Have questions? Contact Mike Mifsud, Broker of Record, Homelife Nu-Key Realty.